The Launch of Mountain Bike. An Interview With Bryce Phillips.
evo TALKS WITH FOUNDER/CEO ABOUT BIKE
By Chris Dickerson, Seattle, WA: As winter winds down and the snow melts, mountain bike trails all across this land will be begin to appear. If you and your friends are anything like the crew here at evo, you will swap out your skis and snowboards for bikes, head up to the hill and ride some dirt.
By introducing top notch brands like Transition, Yeti, and Devinci to our customers and fans, evo plans to offer some of the best mountain bikes around, supported by the best service not only online, but in our stores in Seattle, Portland, and more down the road.
We sat down with evo Founder/CEO Bryce Phillips, to find out more about our new launch and what it means.
evo: What is your background in bike?
Bryce: Along with skiing, it's been a passion for a long time. I think that I first rode mountain bikes just about 23 years ago when I was 15. It was a fully rigid (no suspension) old school Mongoose. I got into downhilling while in Whistler and while I love DH/Freeride, I'm now gravitating a lot more to enduro style riding and a blend of all of the above. Good friends of mine started Transition and I bought a Dirt Bag in their first batch ever out of their garage.

12 or so bikes later, I've grown more and more passionate about riding. The blend of it being an action packed sport along with the camaraderie and community not to mention just being in the mountains make it an amazing way to spend time.
evo: What category of bikes is evo launching, and why?
Bryce: We are really focused on the Trail and Enduro/Freeride categories, bikes that you can do everything with. The beauty is that today, there are a number of bikes that you can take out for a long, single track ride, jump and then hit a downhill trail.
evo: What is different about evo's approach to bike when compared to skiing and snowboarding?
Bryce: Really, there are far more common threads than there are differences. Differences would include the initial breadth of selection and really dialing in how we sell and service in the store before really stepping it up on the web (although we will sell on web). The common threads are the foundation including a focus on community, engaging riders, connecting great people and helping support the sport (i.e. trail building, financial support etc). From art openings, fundraisers, movie premiers and evoTrips, all of the above will be rolled out to truly support mountain biking.

Moreover, we are extremely focused on A+, highly technical service. Bikes, especially the ones we are carrying, are very technical pieces of equipment so they need to be supported with top notch expertise.
evo: What are your favorite places to ride?
Bryce: I love the terrain as you head out I90 from Duthie to Snoqualmie Pass. Riding at Squamish, in Bellingham and also Whistler is amazing. The icing will be riding internationally in South America (i.e. Chile) and Europe but I haven't done that yet….soon.
evo: Who else bikes at evo?
Bryce: Almost everyone bikes at evo whether it's commuting, serious road riding to all types of mountain biking. Biking is nearly universal and that's another reason we love the sport and are excited to roll it out at evo.
evo: How does bike fit in with evo's "cause" message?
Bryce: Like we do with groups like the Service Board, who work with at risk youth via snowboarding and community service, biking is another strong linkage to youth and one that we'll absolutely be involved in moving forward. The key of course, is to figure out how to make it more accessible given the cost and often the locations. There are great examples of organizations that are working to lessen the barriers to entry (i.e. Cheasty Bike Park on Beacon Hill) that we will support with both time and money.
evo: What is your most memorable mountain bike trip?
Bryce: A big group of us went to Squamish a few years back for my brother-in-law's bachelor party. From getting out on amazing rides, a bit of kiteboarding, eating good food and just spending time with great friends in a beautiful place, it was pretty darn close to a "perfect trip."

As you can tell, we are stoked to be launching bike and can't wait to get rolling! We are kicking it all off in the Seattle store on Saturday with an opening party featuring Paris Gore and his photography on April 11, 2015.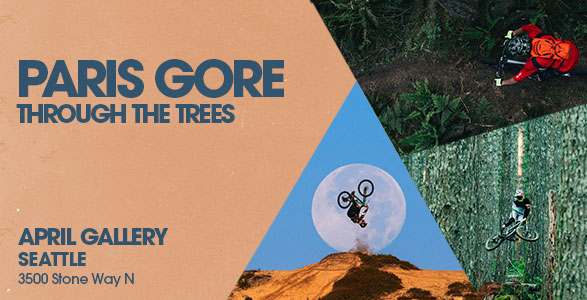 To find out more about the new mountain bike brands from Brian Limoges, our Director of Merchandising, check out his brand recap here>
See you out there!